The first thing you'll learn is that learning doesn't have to be boring
The Next Scheduled CCW Classes are:April 2018
Weekday classes to be announced shortly,
no weekend dates available in April.
May 2018
Saturday May 12-Mother's Day Special
Other weekend dates possible, Call to see.Call or email to see if we can arrange a class to fit your needs
All CCW Classes start at 8am and end between 5:30 to 6:00pm
C
lick here for CCW eligibility Information
| | | |
| --- | --- | --- |
| Use the PAY NOW button next to this message to make the deposit for your CCW Class | | |
See messages relating to deposits and payments at the bottom of this page

Soon after the deposit is made, (Usually in an hour or less, but always with 24 hours) we will email you confirmation, along with directions and other information. Best bet is to call, or email, to set up your date, then make the deposit.

Why should you choose Fisher Arms for your concealed carry Training?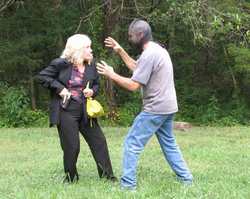 Note: We recommend that you take the CCW class before buying a pistol for self defense, because we will spend fair amount of time in the class discussing your options for choosing a gun, the right ammunition for it, and choosing a holster that fits not only your gun, but also fits your needs depending on your lifestyle and typical mode of attire. You will be a more well informed consumer after the class.
Even though the State Of Missouri requires that a CCW instructor be an NRA Certified Instructor, The NRA does not develop any CCW course material, nor does the State of Missouri. It is up to the individual instructor to develop a course that follows the guidelines set up by State statute.
Most CCW instructors have just one NRA instructor certification, Certified Pistol Instructor, and they have no certifications from other organizations. Basic Pistol only teaches the basics of pistol design and function, and teaches basic marksmanship for target shooting. It doesn't teach anything about holster selection, pistol design, as relating to a defensive use, and doesn't get into defensive ammunition selection at all. Basic Pistol does not even touch upon how the law applies to the justification of using a pistol in a deadly confrontation.
Learn more about your Instructor, Keith Fisher by clicking here:
"Our Instructor"
Keith is certified to teach in every county in the State of Missouri, and his signature on your training affidavit is valid in every county.
On top of all of that, Keith is a NRA Certified Chief Range Safety Officer, making him well trained to keep you safe while you are with him at the firing line.
You can merely obtain a Concealed Carry Permit, or you can learn to defend yourself against violent attack, while reducing the chances of needing to defend yourself against a prosecuting attorney....
Which would you choose?
Class size is usually limited to just 6 to 8 students.
We supply the guns and ammunition for this class. (40 rounds to start and up to 100 rounds maximum if needed.)
We also start you off using a laser training pistol, and a computerized target monitoring system, in the classroom at the same distance as the Missouri required qualifying exercise. Then to reduce stress for new shooters, you will use a pistol with a suppressor (Silencer) attached. How much more stress free could it be?
The shooting portion of most classes, is done inside a heated shooting area, (When needed) with shots fired to the outside.
In addition to learning to shoot a pistol, you will learn FIREARM SAFETY, Laws relating to CCW and the defensive use of a gun, how to clean a pistol, ammunition selection, methods of carrying your pistol. Our Primary focus is how the law affects you, we will break this up into two sections, about an hour and a half in the morning, and another hour and a half to 2 hours in the afternoon.
This class is required by the State Of Missouri to last a minimum of 8 hours, ours usually lasts 8.5 but could go a little longer depending on student needs.
Class price is
$100 per student
including the use of our pistols, and ammunition.
Or
$90 each for two or more people paying together
.
There is a required deposit of $50 per student to hold your seat in the class.
Balance due at start of class. Deposit is always required even if you are signing up for a class the next day.
Deposit is non-refundable , but may be transferred to a class on a different date if you give at least 48 hours notice. Balance is due at the beginning of the class. We are sorry, but the only forms of payment we can accept are through PayPal, or in cash.
Please contact Instructor Keith Fisher at fisherarms@gmail.com, or by phone at 314-800-8221 to make sure there are openings for the day you want to take the class. Pay Your deposit to hold your place in the class at bottom of this page by using PayPal. Class size is limited.
WE DO NOT CANCEL CLASSES!!!!
Even if there is only one student.
Picture below is the "Shooting Shack" where your shooting will be done from.
---
---

All class seats are awarded to who PAYS the deposit, or payment first,
not who signs up first


---

Payment, or deposit for the class should be made soon after signing up to guarantee your spot will be held for you. If someone else signs up for, and pays for the same class before you do, you could lose your spot.